Everything You Need to Know About the Met Gala
Our favorite day of the year is finally here, no not the Superbowl or Christmas but the first Monday in May, the Met Gala! This glamorously exclusive annual event is the annual fundraiser for the Metropolitan Museum of Art's Costume Institute in New York City.
This year's theme is Manus x Machina: Fashion in an Age of Technology.  The exhibition will focus on the split between handmade haute couture and machine-made fashion. Be prepared to see some cutting edge #OOTNs. The chair and host of the event is Vogue editor-in-chief, Anna Wintour with Taylor Swift at her side as this year's honorary chair. Co-hosts are Idris Elba and Apple's chief design officer, Jonathan Ive. Other honorary chairs include Louis Vuitton designer, Nicolas Ghesquiere, Karl Lagerfeld, and Miuccia Prada.
How much does it cost and can anyone go? Tickets cost $30,000 a piece and tables are $275,000. And no, even if you can afford it, it's invite only.
Who will be there? There are essentially two qualifications; you have to be buzz-worthy and beautiful to make the Anna Wintour cut. Taylor Swift and Selena Gomez announced they will be attending together. Kim Kardashian and Kanye, Sarah Jessica Parker, Jennifer Lawrence, Alessandra Ambrosio, the list of A-listers goes on. Will Beyoncé show up with or without Jay Z? We are dying to find out! Unfortunately, our favorite glam goddess Rihanna will not be in attendance because of her tour.
What happens inside? It's a secret. But it is rumored to go a little something like this: "There is a receiving line inside with all the hosts, and guests have to file by and air-kiss them; then they tour the exhibit on their way to the cocktail party. After cocktails, they are called into dinner, and there is always some form of entertainment (last year, it was Rihanna; the year before, Frank Ocean)," according to the New York Times.
Can we watch from home? Actually yes! This year is the first year that E! is doing a live red carpet special.  The pre-show will air at 7 p.m., followed by red carpet fashion at 7:30 p.m. The actual gala will not be televised, and guests are forbidden to use social media during the event. But Instagram will be highlighting the best videos from within the Met Ball on its dedicated video channel.  And we are crossing our fingers for a Met Gala Snapchat story.
It's about time we get some sort of look into the covert yet profound event. It is especially fitting since this year's theme is tech. So get ready for a red carpet full of jaw-dropping gowns and head-turning tuxedos. We can't wait to see what will cross those legendary steps of the Met this year.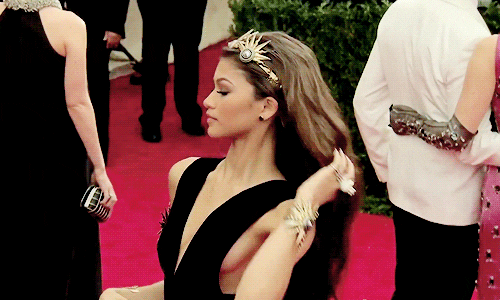 Happy Met Gala Monday!
PROMOTED STORIES
MORE NEW YOU