I've Been Drinking… LEMONADE
I've been drinking… watermelon LEMONADE.
This weekend, Beyoncé gave us much more than what we bargained for. In her hour-long visual album, she wakes up to heartbreak, betrayal, and infidelity as a hangover to being "Drunk in Love."
With very few details provided, not even Beyoncé's biggest fans knew what to expect from her Saturday night HBO special. Would it be a documentary? A new music video? An album release? Well, in full "world stop" fashion, the Queen covered all of the above in just one night, and gave fans the speculation that there might be trouble in paradise.
Lemonade, which Beyoncé split into 11 chapters, play on the Kübler-Ross model of grief.
Chapter one, titled Intuition, shows Beyoncé for the first time as she sings the lyrics to the album opener "Pray You Catch Me." "You can taste the dishonesty/ It's all over your breath" are the first lyrics Queen Bey so vulnerably sings, insinuating all the feelings of betrayal, jealousy, and rage to come. At the end of the video, she stands on the roof of a building in an attempt to end her life – probably praying he'd catch her, she jumps.
In true Queen form, rather than hitting the ground, Beyoncé lands in a bathtub completely submerged underwater to open chapter two, Denial. Looking for an escape route, Beyoncé poetically speaks about all of the self-told lies and sacrifices she's made in her relationship. She later bursts from the water to ask, "Are you cheating on me?"
Well damn.
Suddenly, the scenery switches as she's runway walking down a New Orleans street to the reggae-rhythm of "Hold Up." Dressed in a "lemonade-colored" dress, the singer fully encompasses a baddie as she belts lyrics like "I don't want to lose my pride, but I'mma fu*k me up a b**ch" and "what's worse, looking jealous or crazy… I'd rather be crazy."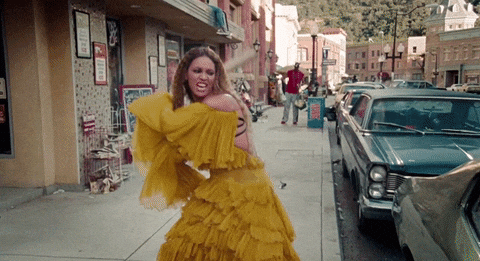 She takes her anger out as she swings at cars and other objects with a baseball bat. And as a matter of fact, that's the hot sauce she's had in her bag the whole time!
"Hold Up" shifts so fittingly into chapter 3, Anger. The track changes from an upbeat reggae tune to a screaming rock track featuring Jack White. "Who the fu*k do you think I am?/ You ain't married to no average bi*ch boy." The song ends with a warning: "If you try this sh*t again/ You gon lose your wife."
At this point, she had us all wonder – is the world's most famous couple, next to Barack and Michelle Obama, getting a divorce?
Hmm… but the issue stems deeper than relationships, she plays a statement-making audio clip from a speech by Malcom X, "The most disrespected woman in America is the black woman. The most unprotected person in America is the black woman. The most neglected person in America is the black woman."
Chapter 4, Apathy drops the ring fingers and raises the middle fingers of women all over the world as we "tell'em boy bye!" Before kicking off "Sorry," the fourth track on the album, Beyoncé adds some modern-day spice to an old quote. "Ashes to ashes, dust to side chicks!"
Serena Williams made a cameo in this fierce celebration song as she twerked next to Beyoncé, who was sitting on a throne. Then, we got to attend a girls-only dance party in a party bus filled with uplifted middle fingers and ultimate power.
Just when we thought this visual album couldn't get any more shady, Beyoncé says, "he better call Beck with the good hair," and left "Becky" in the hands of the BeyHive.
As it turns out, Becky just might be Rachel Roy, a fashion designer and ex-wife of Damon Dash, who is Jay Z's former best friend and business partner. Remember the elevator altercation between Beyoncé's sister, Solange Knowles, and husband, Jay Z? Well, there was speculation that Roy was somehow involved in that altercation, which led Solange to lash out.
Roy posted a photo of herself and some friends on Instagram with the caption, "Good hair don't care, but we will take good lighting, for selfies, or self truths, always. live in the light #nodramaqueens."
Roy was attacked by the BeyHive and ended up deleting the suspicious post. We see you Rachel.
The fashion designer responded to the rumors with a tweet.
Indifference turns to Emptiness in Chapter 5 as Beyoncé sits in a red gown surrounded by a ring of fire. We get a closer look into the songstress' sadness and anger. She then walks right into "Six Inch," a song featuring The Weekend.
At this point in Lemonade, Beyoncé has given us soulful songs, reggae rhythms, and even rock n' roll. But did you think we'd get a country number? I certainly didn't, but it's Beyoncé we're talking about – anything is possible. "Daddy Lessons", a song about her relationship with her father, is featured in Chapter 6 Accountability. The iconic songstress shares vintage clips of her younger self with her father as well as Blue and Jay Z.
Finally, the album begins to take a turn for the better. Chapter 7, Reformation features "Love Drought" where she sings about a love so strong it can "move a mountain," "calm a storm," and "make it rain now."
The moment she says, "You, you, you, you and me could stop this love drought," there was a giant breath of fresh air that shook the earth. That was the entire BeyHive in a sigh of relief because the Carters are still one.
Chapter 8, titled Forgiveness, features a beautiful hymn, "Sandcastles" where we get to see the man who has assumedly caused her pain, Jay Z. In the song about trying again, she sings with hope, "There is a curse that will be broken."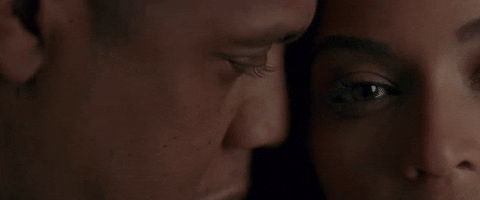 With African-American women strongly represented in the entirety of Lemonade, it is clear that Black Lives Matter is one of the messages being portrayed. However, that idea is undoubtedly the strongest in Chapter 9, Resurrection. "Forward" sets the tone of this part of the video, which features African-American mothers who have lost their children to police brutality in America. Sybrina Fulton, mother of Trayvon Martin; Lesley McSpadden, Mike Brown's mother; and Gwen Carr, Eric Garner's mother were all a part of the segment about moving forward in life.
In Chapter 10, Hope, Beyoncé exchanges her sadness for a celebration of freedom. In the call-to-action anthem featuring Kendrick Lamar she chants, "Freedom! Freedom! I can't move/Freedom, cut me loose!/Singin', freedom! Freedom! Where are you/Cause I need freedom too!/I break chains all by myself/Won't let my freedom rot in hell/Hey! I'ma keep running/Cause a winner don't quit on themselves."
In the final chapter, Redemption, we learn where Beyoncé got the inspiration for the title of Lemonade. There's footage of Jay Z's grandmother, Hattie White, saying, in celebration of her 90th birthday, "I was served lemons, but I made lemonade." She further shares never-before-seen footage of her family all the while singing "All Night."
"Your love was stronger than your pride / Beyond your darkness I'm your light."
There is footage from her mother, Tina Knowles', wedding and clips from Beyoncé and Jay Z's wedding. We see shots of Blue's first birthday party and of her and Jay Z playing in an empty stadium.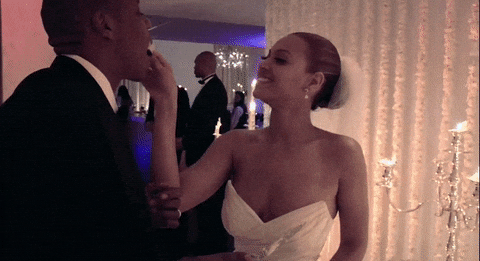 Anybody else have a host of mixed emotions? I'm feeling sadness with the need to replace my box of Kleenex and empowerment, ready to turn my lemons into lemonade.
PROMOTED STORIES
MORE NEW YOU