Behold: The Flame-Retardant Big Mac
This gross viral video shows a man pouring boiling molten copper over a Big Mac as it remains relatively intact.  Big Mac lovers will cringe after they see their beloved burger get dowsed in smoldering lava, withstanding a temperature of around 1085°C and still lives to see another day.
Sadly, the fact that the burger didn't go completely up in flames and disintegrate suggests that its various ingredients have flame retardant properties.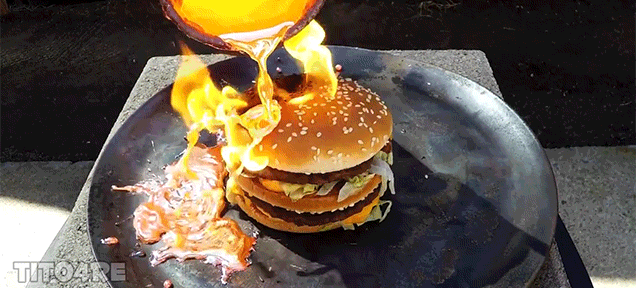 The caption for the video that has been uploaded to YouTube and viewed more than a million times said: "Pouring molten scrap copper on Big Mac. Copper's melting point is 1085°C".
So, what we are seeing here is that copper melts at 1085°C (or 1,984°F) BUT the bun only begins to char after a minute of being exposed to the boiling liquid AND the remainder of the ingredients inside appear to be 'untouched'.
Cringe-factor fact: McDonald's estimates 550 million Big Macs are sold each year in the U.S. alone… that's about 17 per second.
So, after you have finished reading this article, we'll say two minutes, roughly 2,040 people will have consumed flame-retardant burgers.
Ew. I'm NOT lovin' it McDonald's!
Take a look at the world's most indestructible burger:
Thanks to Tito4re for pouring molten copper all over different stuff and making a YouTube channel of it!
PROMOTED STORIES
MORE NEW YOU