Oscar 2016 WOW Moments
In the thick of the controversial 88th Annual Academy Awards Ceremony, the biggest night in film didn't disappoint. From droids to girl scout cookies, rambling minions to Chris Rock's blaring social satire, the 2016 Oscars were chalk full of sizzling (and some very awkward) moments. Here is a look at a few of the head-turning WOW moments from the 2016 Oscars:
Chris Rock Opening Monologue
We all watched in anticipation as host Chris Rock kicked off the #OscarsSoWhite ceremony with a bang. Rock wasted no time with his first line out of the gate: "Man, I counted at least 15 black people in that montage!…
Rock says he didn't think it was worth it to cancel since the show would go on regardless. "Last thing I need is to lose another job to Kevin Hart. I don't need that." (Camera cuts to hysterical Hart laughing in the audience).
"It's not fair that Will Smith was this good [in 'Concussion'] and didn't get nominated. It's also not fair that Will was paid $20 million for 'Wild Wild West!'…
"This year, in the 'in memoriam' package, it's just gonna be black people that was shot by the cops on their way to the movies. Yes, yes, I said it…"
This went on for the entire three and a half hours. He ended the show with an open invitation to the BET Awards this summer.
Most Awkward Moment in Oscar History: Stacey Dash
The controversial actress made a bizarre appearence on the Oscar stage after host Chris Rock introduced her as the "director of our new minority outreach program."
She then proclaimed: "I cannot wait to help my people out. Happy Black History Month!" and then walked off the stage which was followed by dead, awkward, debilitating silence.
And the camera caught The Weeknd's reaction.
We were all @theweeknd during that Stacey Dash bit. #Oscarspic.twitter.com/HmjVx8Ss90

— The Cut (@TheCut) February 29, 2016
Chris Rocks daughter's Girl Scout Troop selling Girl Scout Cookies to the audience!
Kate Winslet, Cate Blanchett and Jennifer Lawrence may have not walked away with Oscars but they did manage to snag some Thin Mints! Chris Rock used his hosting gig as an opportunity for the Los Angeles Girl Scout troop to raise money by selling their cookies to the audience… and they made bank! The girls ended up selling a whopping $65,243 with over 13,000 boxes sold.
Leonardo DiCaprio FINALLY wins an Oscar!
No more sad memes people, Leo has finally won Best Actor for his role in "The Revenant". After 20 years in the industry and six total nominations, he finally earned the shiny gold. He, of course, humbly accepted, thanking his bromance with Tom Hardy and Director Alejandro G, Iñárritu. He also, of course, enlightened us all on the dangers of global warming.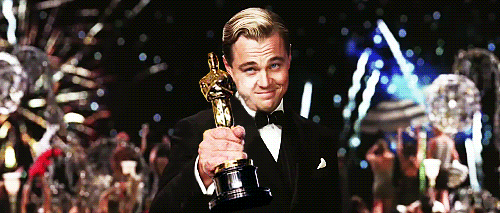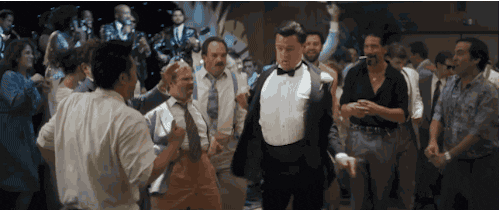 "Spotlight" wins Best Picture!
Shocking just about everybody, "Spotlight" takes home the best picture award. It's the first movie since 1952 to take best picture and win just one other category.
The natural thing to do is to celebrate with a floor selfie…
A photo posted by Naomi Watts (@naomiwatts) on
Oh and, the sound cut out on the guy who won best Sound Design. That was pretty funny.
The end. Cover Photo: Mark Ralston/AFP/Getty Images)
PROMOTED STORIES
MORE NEW YOU