The Best Tina Fey-isms of All Time
As someone whose answer to "what do you want to be when you grow up" has always been "Tina Fey", I have learned a lot about the powerhouse comedian, writer, and actress over the years. In a nutshell, she has won eight Emmy's, two Golden Globes, five Screen Actors Guild Awards, four Writers Guild of America Awards, and has a Grammy-nominated, New York Times best selling book, Bossypants. She has given us the queens of mean in Mean Girls, hoards of our favorite SNL sketches, a comical look into the world of television production in 30 Rock, a story of an Amish turned New Yorker in Unbreakable Kimmy Schmidt, and the best two hours of her and bestie Amy Poehler on screen in Sisters. So it's safe to say she is someone we can all learn a thing or two from. Today is Fey's 46th birthday – that is 46 years of wisdom she has to share.
Here are ten of the many brilliant Tina Fey-isms she has blessed us with:
It will never be perfect, but perfect is overrated. Perfect is boring. – Bossy Pants
Say yes, and you'll figure it out later. –Bossypants
Whatever the problem, be part of the solution. Don't just sit around raising questions and pointing out obstacles. –Bossypants
If you retain nothing else, always remember the most important rule of beauty is: who cares? –Bossypants
In most cases, being a good boss means hiring talented people and then getting out of their way. –Bossypants
Some people say, "Never let the see you cry." I say, if you're so sad you could just cry, then cry. It terrifies everyone. –Bossypants
Don't waste your energy trying to educate or change opinions; go over, under, through, and opinions will change organically when you're the boss. Or they won't. Who cares? Do your thing and don't care if they like it. –Bossypants
You can't be that kid standing at the top of the water slide, overthinking it. You have to go down the chute. –Bossypants
It is an impressively arrogant move to conclude that just because you don't like something, it is empirically not good. I don't like Chinese food, but I don't write articles trying to prove it doesn't exist. –Bossypants
Not only say yes, but YES, AND. To me YES, AND means don't be afraid to contribute. Always make sure you're adding something to the discussion. Your initiations are worthwhile. –Bossypants
Thank you Tina Fey, for being the unconventional role model that the world needs. Happy birthday! Cheers to more inspiration, more laughs, and a Mean Girls reunion!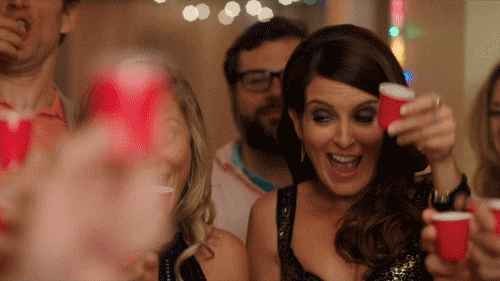 PROMOTED STORIES
MORE NEW YOU