Topanga Got Divorced!
Danielle Fishel, our favorite intellectual overachiever Topanga Lawrence, secretly filed for divorce from her husband Tim Belusko back in October of 2015 and it was just finalized this past March. The two met at Cal State in 2009 and married in 2013. We know the real reason for the short two-year marriage stint… her husband wasn't Cory Matthews.
Cory and Topanga had an epic love story that just couldn't match up to real life. Want proof? Here are the epically romantic moments that made Cory and Topanga THE cutest TV couple in the history of TV couples.
Love at first sight is real…
Normal high school boys are more concerned with spitballs and football practice but not Cory.
They even wore matching denim outfits! I can't.
Not to mention the insanely romantic one liners Cory throws out on a regular basis.
I bet Topanga and her ex-husband never had a moment like this, pretty much the cutest thing after a kiss in the rain is a soaking wet Topanga running away from home to be with Corey.
He even makes lying sound romantic
He loves to watch her eat pizza, which is basically every girls dream.
And that my friends is how you get a girl to fall in love with you and stay with you forever.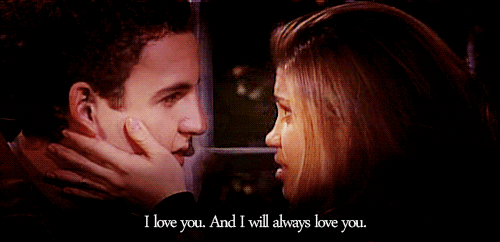 Hopefully, Tim "Not Corey" Belusko will learn a few things from Boy Meets World. In the meantime, the rest of us will be praying that the newly single Topanga will fall back in love with her real soul mate Cory. They do work together on Girl Meets World, after all. A girl can dream #CoreyAndTopangaForever.
PROMOTED STORIES
MORE NEW YOU