Shop For Groceries in Your PJS
Image: Shutterstock.com
Ever changing technology always has a disruptive effect on brick and mortar businesses. But we, as consumers, love it! When we need quick service, mobile applications such as Uber save us time and money, while online shopping saves us from having to get dressed and stand in horrific lines. Who doesn't like shopping in their pajamas?!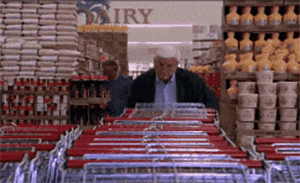 Thanks to technology, we can now shop for groceries online and have them delivered, making it super convenient for those who don't have a vehicle or are just plain lazy! Online grocery shopping allows you to take advantage of sales that you'd probably miss in store. Cross this chore off your to-do list and get the best value for your household by checking out Amazon or one of the numerous companies that have implemented this feature on their websites.
GoBio!
Special Feature: Offers organic, high-quality foods.
NetGrocer
Special Feature: FedEx delivers straight to your door, including military addresses.
ExpatExpress
Special Feature: Delivers to US citizens living overseas.
AllSuperStore
Special Feature: Save money by buying in bulk!
ShopFoodEx
Special Feature: Offers seasonal specials.
The writers at New You discussed their opinions on online shopping. Get the scoop on who likes to shop in their pjs.
Ana: "It depends on what I am buying. If it is boxed or canned food like corn and pasta, I'll buy them. If it is dairy or fresh produce, like tomatoes, avocados, etc. I wouldn't because I like to pick those myself."
Tiffany: "I like the idea of shopping for groceries online. I would trust someone else to do it once I guided them through the process beforehand and told them what I like and dislike. However, I'd mainly do it when I'm too busy to go to the store myself, or if it's a rainy day (something like that). Other than that, I generally enjoy going so I can see the products for myself."
Sydney: "I'd prefer to online shop and have it delivered because I hate grocery shopping. The lines are too long, and the other shoppers annoy me. I like to get in and out of the supermarket, and others make it difficult for me to do just that. I'd be sure to make a note of what I want exactly, and if they (delivery guy) fail to pick the produce properly, I'll have them take it back. I'm a very picky eater – it's kind of an oxymoron because I eat basic foods – so they wouldn't have any problems finding the foods I like."
Ruchel: "I would definitely use the online store for dry goods and detergents. Produce is a little different here. Instead, I would like to see more farmers markets so that they are like Walgreens (around every corner)."
Lauren: "Yeah, online grocery shopping would be nice. It would be good because I sometimes hate going grocery shopping and because you can stick to a certain list and budget. Your eyes wouldn't wander into the snack aisle or the ice cream section. So if you set out to only get healthy food, you would only be delivered healthy food. (I sometimes come home with bags of Cheetos that I didn't set out to buy originally)."
Alexus: "I would give online grocery shopping a trial run. I think it would be convenient. I would still want to pick out my own meat, though."
Happy online shopping!
PROMOTED STORIES
MORE NEW YOU